!Skapad av Annette Hägglund med Einstein Html 2000> <!Tid: 18.35 Datum: 2000-07-30>
Cal-Ore's Tribute To Windridge
"The farther backward you can look, the farther forward you are likely to see"
Winston Churchill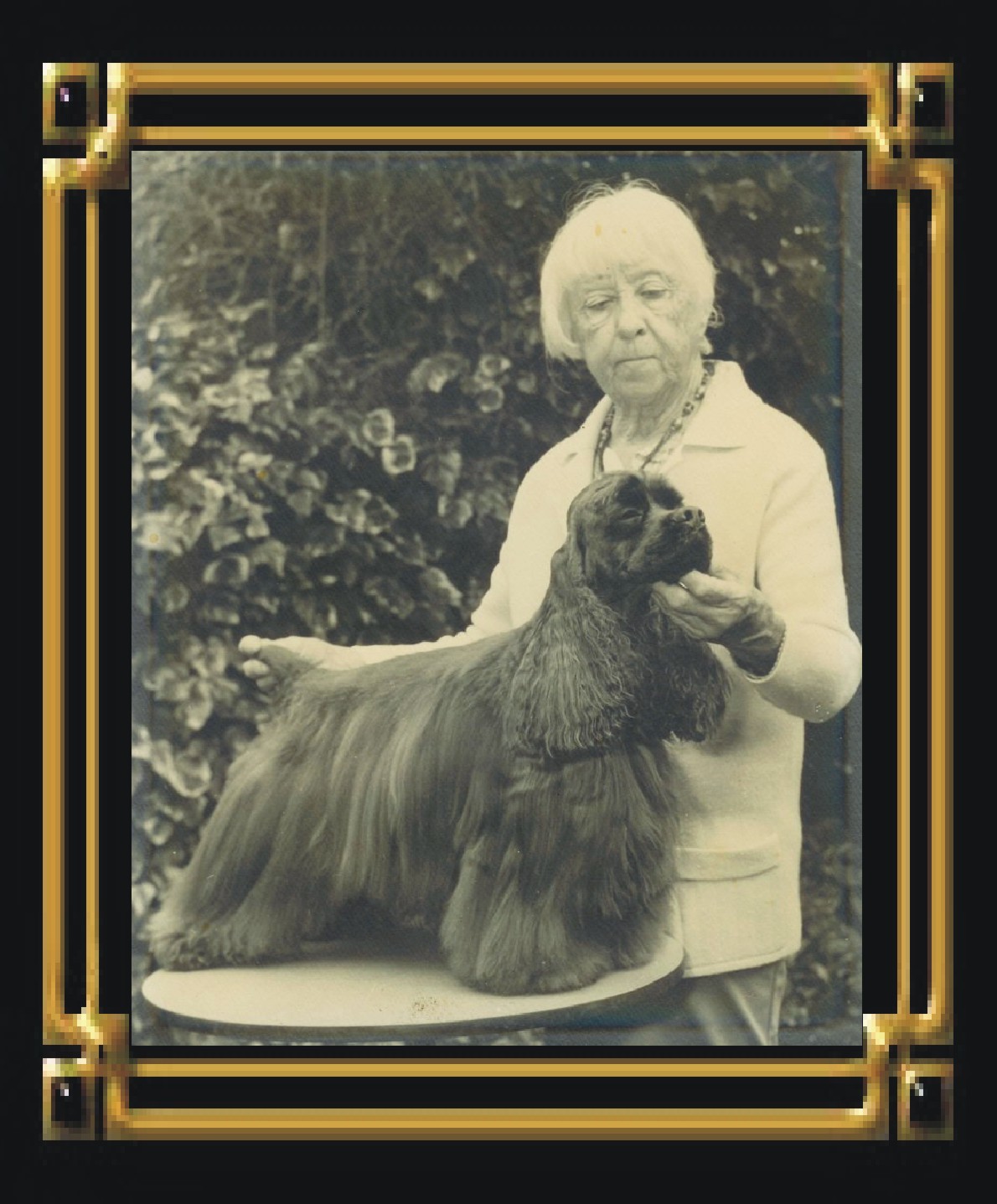 Click here for more photos of Arline/Comment
Arline & Comment, aka Ch. Windridge Chocolate Comment.
We would like to thank Yvonne Koske of Lorli Cockers for allowing us to use this photo of Arline and Comment. We also thank Terri Nesmith for scanning and sending the photo via e-mail so we could post it on our Tribute To Windrige page.


PEDIGREE OF CH. WINDRIDGE CHOCOLATE COMMENT


One might ask oneself why write a Tribute to another Cocker Spaniel breeder/exhibitor especially one who had been established so long ago and who has since passed away nearly 20 years ago now?
It had never occurred to me that I would want to write a Tribute about Miss Arline Swalwell of Windrige fame until recently when my daughter Lisa came home from a dog show one day and said to me, "Mother you are not going to believe what was being said about the Windridge chocolate dogs at ringside today!" Let's just say most of it was not very complimentary. Lisa was very upset because as she so aptly pointed out to me, "Where do all these people think the Chocolate American Cocker Spaniel came from? Without Miss Arline Swalwell we would not have the Chocolate Cocker Spaniel we all know and love today." Arline began Windridge Kennels when she was just 18 years old in 1918 and was still breeding/showing her own dogs in 1987 just before her death. She was to our knowledge the longest operating breeding kennel of American Cocker Spaniels in the US.
You can read all about Arline's Windridge Kennels (in her own words) and how it all began by clicking on the following links on this web page:
You can also find some more history on Arline's chocolate dogs and other chocolate dogs owned by other Cocker breeders by reading the story titled:
A few days before the above incident took place we had been doing some more extensive research into our dogs pedigree's. What really got us into researching our pedigree's was my "OBSESSION" to find out where "THE LOOK" as I call it in our dogs came from.
It was driving me crazy as I saw more and more old pictures of not only the Windridge chocolates, but of Miss Swalwell's reds & buffs with "THE LOOK" which is what one calls the FAMILY RESEMBLANCE.
I also wanted to find out where and when the chocolate color came into the Windridge bloodlines through her first chocolate puppy Windridge Brown Betty whelped January 1, 1951, who was according to Miss Swalwell a great granddaughter 10 generations back of

Sweet Georgia Brown.
It is thru

Windridge Brown Betty's grandam Westwin Ribbon (who appears on both Brown Betty's sire Windrige Heads I Win & dam Chloe Of Aldermyr side) that Ch. My Own Brucie appears. Ch. My Own Brucie being the 2 times great grandson 5 generations removed to Sweet Georgia Brown. Ch. My Own Big Parade & Ch. Acela Le Noir are Sweet Georgia Brown & Red Brucie sons from 2 different breedings. It is of interest to note that Boocie is a litter sister to Ch. Acela Le Noir and older sister to Ch. My Own Big Parade. This then makes Windridge Brown Betty the great granddaughter 10 generations removed of Sweet Georgia Brown as Miss Swalwell had said.
You also have thru Westwin Ribbon's dam Westwin Starlight, Fisher's Black Farmer appearing on both sire/dams side of the pedigree. Fisher's Black Farmer is a great grandson 4 generations removed of Dinatella the black litter sister to Sweet Georgia Brown. We should also mention here that Dinatella was bred to her sire Ch. Obo Donatella. Thru this mating you then have Ch. Mandy Of Le Noir. Both Sweet Georgia Brown and Ch. Mandy Of Le Noir were bred to Red Brucie. You also have on Westwin Starflight's sire side appearing 4 generations back a black bitch named Boocie she being the daughter of Sweet Georgia Brown & Red Brucie.
Sweet Georgia Brown, Dinatella and Ch. Mandy Of Le Noir's sire Ch. Obo Donatella has on both sire and dams side of his pedigree Can. Ch. Billy Obo, he being the great grandson of
AM CH OBOII 5 generations removed. Thru Obo II we already have numerous crosses to Bullocks Bebb who was a liver/chocolate colored spaniel. We also have thru Ch. Obo Donatella's dam Obo Refinement, Janus Bowdler a liver/roan/tan dog who was an English import. He was bred to his own dam Julien Bowdler a liver/roan herself. Thru this close inbreeding we again have several generations of liver or chocolate colored spaniels appearing.
It has been previously stated that the chocolate color is a recessive gene which means that you need to have it appearing on both sides of a pedigree several times within a 5 generation pedigree. Now it may seem odd that Miss Swalwell was able to have one chocolate bitch born from her mother/son breeding with no chocolate colored dogs appearing in the first 5 generations of the pedigree. We feel the only reason that Windridge Brown Betty was born from this breeding was because it was a mother/son mating. In this type of breeding you have many closely related dogs that went back to the same chocolate colored ancestors. You also must remember that these dogs not only appeared on the sire's side but on Brown Betty's dam's side as well. So the chocolate gene was spread across all 4 sides of Brown Betty's pedigree which in turn made it possible for her to be born chocolate. If you had bred two other dogs that were not related as close as mother/son you probably wouldn't have a chocolate offspring. But as Frances Greer always said, "Genes don't disappear. They hide."


OBITUARY

CORINNE SWALWELL

Corinne Swalwell, 86, a self-employed designer and retailer of children's clothing for 50 years, died Thursday at her Carmel home after a period of failing health.
Born Dec. 3, 1900 in Everett, Washington, she came to Carmel in 1960. Surviving is a twin sister, Arline Swalwell of Salinas.
Services are scheduled for Monday at 2 p.m. in the Little Chapel by-the-Sea. Private entombment will be in El Carmelo Mausoleum. The Paul Mortuary is in charge of arrangements.

The above article was in The Monterey Herald Newspaper, Monterey, California, December 21, 1987, on page 4.




OBITUARY

ARLINE SWALWELL

Arline Swalwell, 87, of Salinas, died Sunday at her home following a sudden illness.
Miss Swalwell was born December 3, 1900, in Everett, Washington, and lived in Salinas for 36 years. She owned and operated the Windridge Kennel in Corral de Tierra for 69 years.

Her interest in Cocker Spaniels began at the age of 18 when her father gave her a dog. At the time, she was an artist and began using the dog as a favored subject of her paintings, according to W. D. Moss, a friend from Salinas.

"Then the dogs took over," he said. Miss Swalwell opened her kennel and, through a series of breedings, originated the Chocolate Brown Cocker Spaniel.
She is survived by cousins in Washington.
Visitation is scheduled for 2 to 9 p.m. today at the Whitehurst-Muller Funeral Service Chapel. Graveside services will be held at 10:30 a.m. Thursday in El Carmelo Cemetery.

The above article was in the Monterey Herald Newspaper, Monterey, California, April 13, 1988, on page 4.





We thank the Monterey Public Library, Monterey, California for their help in sending the above obituaries to us and their numerous E-mails in our search for past history regarding Arline and Corinne Swalwell.



WINDRIDGE CHOCOLATE ROYAL

CH. WINDRIDGE CHOCOLATE FANFARE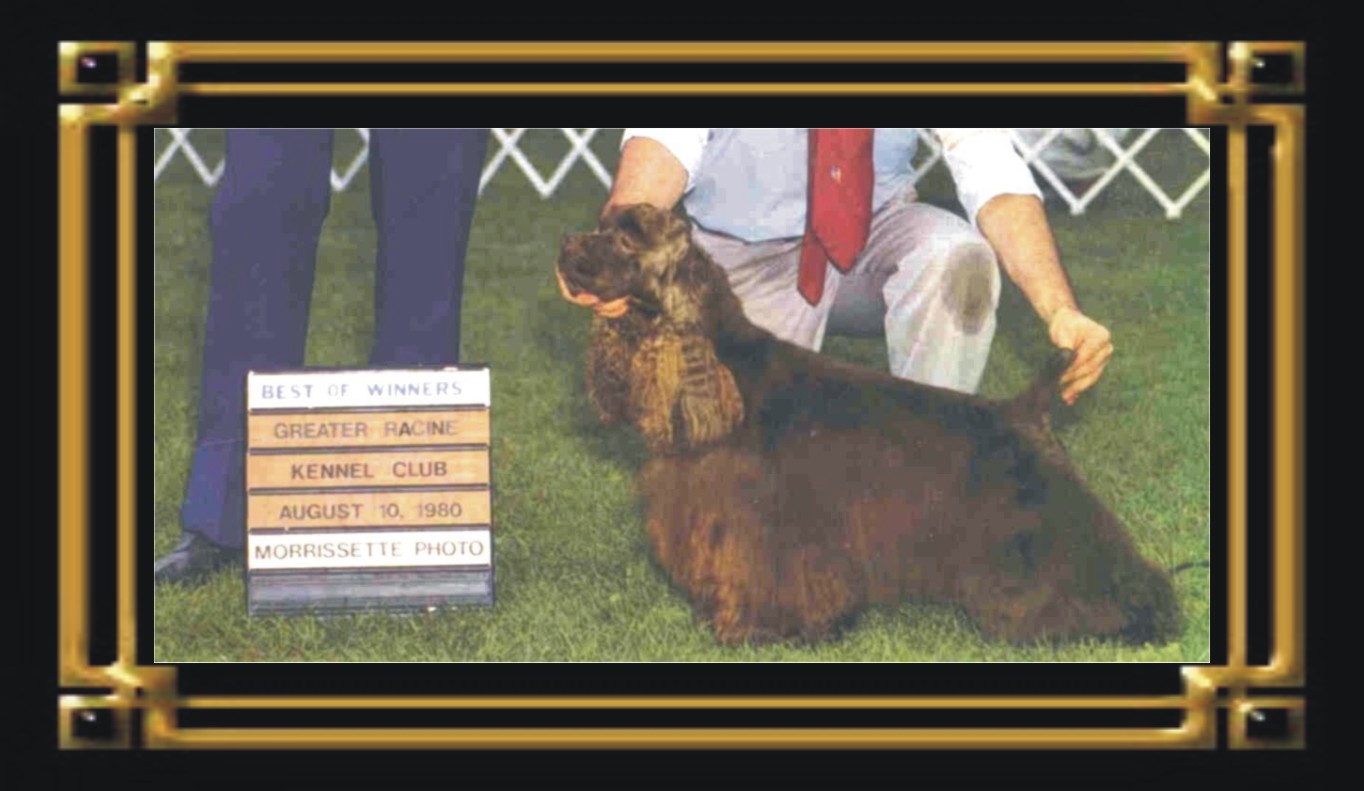 AM. MEX. FR. INT. CH. WINDRIDGE CHOCOLATE BARON, CD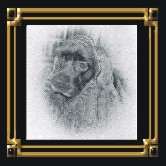 Whelped: April 30, 1968
Sire: Windridge Standard Bearer (Buff)
Dam: Windridge Chocolate Rhythm (Chocolate)
Baron's picture was taken just before he was sent to his new owner, Mm. Monique Rufer of Merrily Cockers in Orsay, France in 1974.

Elaine Poole of Merribark Cockers in the USA said of Baron at the time, "That he was already the most titled Chocolate American Cocker Spaniel in the world, and that Baron would open another frontier for the Chocolate American Cocker Spaniel to live and be exhibited in Europe."

Elaine said for Arline Swalwell, "To take another bow! You bred him, I raised him and exhibited him, we both loved him and hopefully, so will the people of Europe. Upon completion of his European title, Baron will be the first International Chocolate Champion in the World."

The above information came from the American Cocker Review magazine May1974.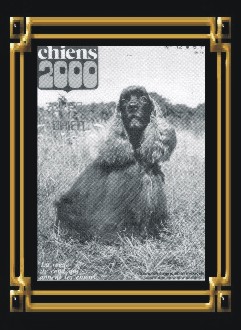 AM. MEX. FR. & INT CH. WINDRIDGE CHOCOLATE BARON, CD
is pictured on the front cover of the French Dog magazine chiens 2000 in the year 1976. I think I have the right date on Baron's cover story, but if someone has a different one please E-mail us so we can change it. The above information came from The American Cocker Magazine May/June 1981.

Ch. Windridge Chocolate Dandy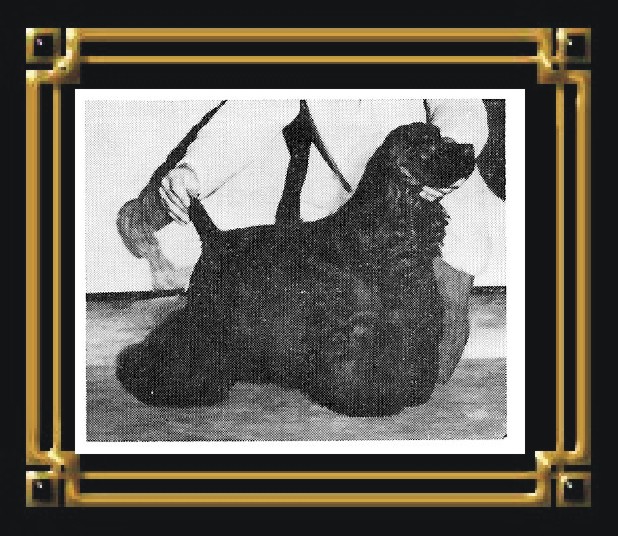 Ch. Moderna's Brown Derby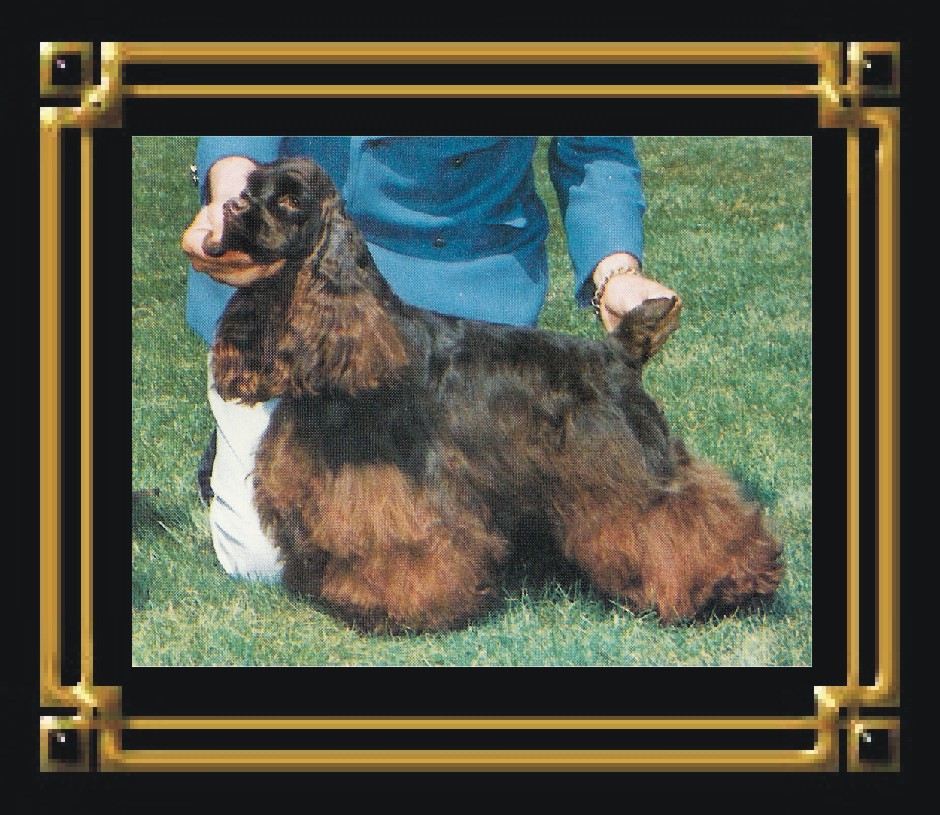 Windridge Chocolate Bonanza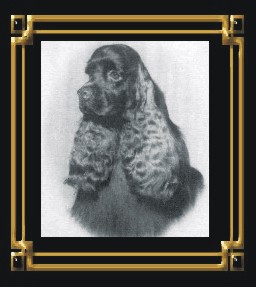 PEDIGREE

Whelped: June 1974
Sire: Windridge Chocolate Royal (Chocolate)
Dam: Windridge Moon Mist (Buff)
The above picture came from The American Cocker Magazine May/June 1981.

Windridge Buffs/Reds page

Windridge Kennel's - Monterey, California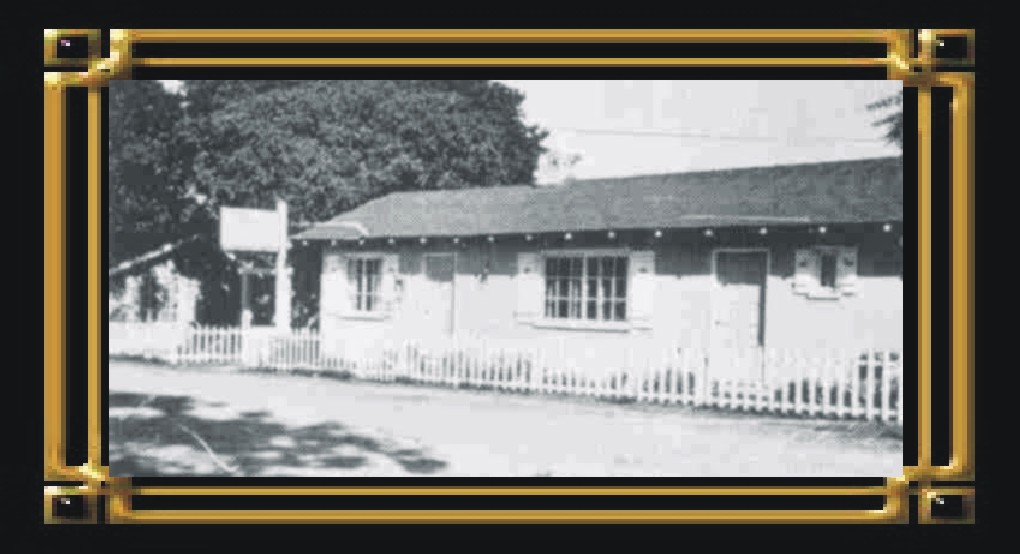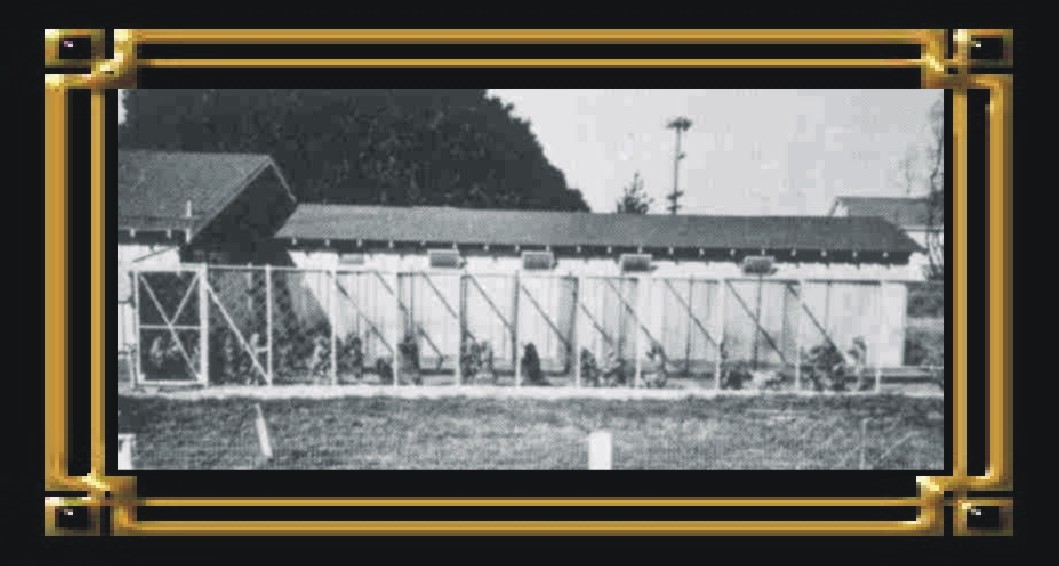 Copyright © 1999-2006 CAL-ORE COCKERS
Nancy L. Ray and Lisa L. Ray
All Rights Reserved
<!This is the START of the script! Just Copy and past! Good luck!!!!>

We have spent thousands of hours searching the Web for information & Links. Researching Old Books, Magazines and talking to Long time Breeder/Exhibitors in our search on the Cocker Spaniel's History. We hope you find them helpful, but PLEASE note these pages are COPYRIGHTED.
DO NOT COPY, Transfer, or Download the content or Photo's of these pages onto another Web page or Web site without our written permission.