!Skapad av Annette Hägglund med Einstein Html 2000> <!Tid: 18.35 Datum: 2000-07-30>
Stud Dogs
"Education is our passport to the future, for tomorrow belongs to the people who prepare for it today."
Malcolm X

REQUIREMENTS FOR BREEDING YOUR BITCH:

1. Vet checked for General Health. A Health Certificate is required if Shipping from Out Of State (it is only good for ten (10) days so watch her real close & contact us far enough ahead of time so we both can be prepared for the coming event) and make sure ALL Shots, DHLPC&P (Distemper, Hepatitis, Leptospirois, Parainfluenza, Corona & Parvo) are up to date including RABIES Vaccine and provide a Vet signed copy on all testings.

2. Worm her before breeding and again when bitch is approximately 3 weeks into her Pregnancy not later than this as you are putting poison into her system and could possibly Maime or Kill your expected puppies. Have a stool specimen checked for Worms and provide a Vet signed copy on all testings.

3. The Bitch must be 2 Years old or older at the time of Breeding.

4. Need a CURRENT EYE EXAM for SLT/PRA CLEAR & NO RETINAL FOLDS within one (1) year prior to breeding. (Prefer listing in American Spaniel Club Health Registry, ASCHR)

5. BRUCELLOSIS NEGATIVE just prior to breeding.

6. THYROID TESTED NORMAL within six (6) months prior to breeding.

7. OFA HIPS: Tested at or after 2 years old. (Prefer they be entered in ASCHR).

8. BLOOD TESTED for FACTOR VIII & X (VWD)

9. Bitch should be ready to be bred on the 9th and 10th Day AFTER YOU FIRST NOTICE SIGNS OF BLEEDING. Swelling of the Vulva will go down and the discharge will be a slight yellowish straw color. She will twist her tail to the side (FLAGGING) when touched near the tail or on the Vulva.

10. We breed one (1) Day, Skip a Day, then breed the Following Day.

11. Locally, bring her food for one (1) week if she needs to stay and any special toys or blankets for her stay, as these seem to comfort her in her new and strange surroundings.

12. If she should MISS you have one (1) FREE Repeat Breeding at her NEXT SEASON ONLY.

13. GESTATION: 63 days, 63-65 days is average. Pups have been born from 59 days on.



We have supplied 3 very important articles we feel every bitch/stud owner should read before mating the dog/s they have in their breeding programs. We hope that everyone will find the following information valuable to your future breeding success. We have posted this info in hopes that both newcomers and older dog breeders will have some new ideas to take back to their own breeding program.

Other Links About Breeding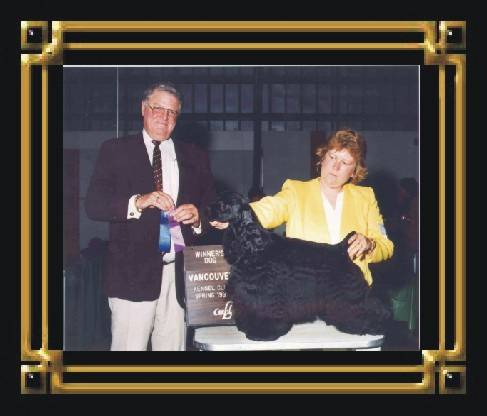 AM & INT & JU.A CH Cal-Ore's Charcoal Kid
SLT/PRA PERM CLEAR 7/16/06 ASCHR
OFA:CS-6927G65M-PI (GOOD)
Whelped March 04, 1996
Sire: Cal-Ore's Chocolate AJ, SLT/PRA CLEAR NO RETINAL FOLDS 1/30/01, PERMANENTLY REG in ASCHR

Dam: Allieupe Of Cal-Ore, SLT/PRA Clear 10/05/99, 11 years old, PERMANENTLY REG in ASCHR

Charlie is standing at Limited Stud to Approved Bitches only. Stud Fee on Request.
He produces Black & Buff so far. He will produce Chocolate, (Choc/Tan? & B/T?)
He is a "Smooth Movn' Fool", Rock hard back, Tons of Body Substance, long arched neck, good depth of chest, well sprung ribs, lots of reach & drive, scissors bite ( very large teeth), a True Sporting Dog Head plus very dark eyes and the most loving disposition one would ever want.

How To Contact Us
Nancy L. Ray and Lisa L. Ray
Brooks, OR. 97305-9732 USA
Phone: 503-792-3479
FAX: 503-792-4580
E-mail: CALORECOCR@aol.com



Copyright © 1999-2006 CAL-ORE COCKERS
Nancy L. Ray and Lisa L. Ray
All Rights Reserved
<!This is the START of the script! Just Copy and past! Good luck!!!!>

We have spent thousands of hours searching the Web for information & Links. Researching Old Books, Magazines and talking to Long time Breeder/Exhibitors in our search on the Cocker Spaniel's History. We hope you find them helpful, but PLEASE note these pages are COPYRIGHTED.
DO NOT COPY, Transfer, or Download the content or Photo's of these pages onto another Web page or Web site without our written permission.