!Skapad av Annette Hägglund med Einstein Html 2000> <!Tid: 18.35 Datum: 2000-07-30>
Our Angel's Of The Past
"If I have any beliefs about immortality, it is that certain dogs I have known will go to Heaven, and very, very few persons."
James Thurber

"IN MEMORY OF LADY BEVERLY BOOTS"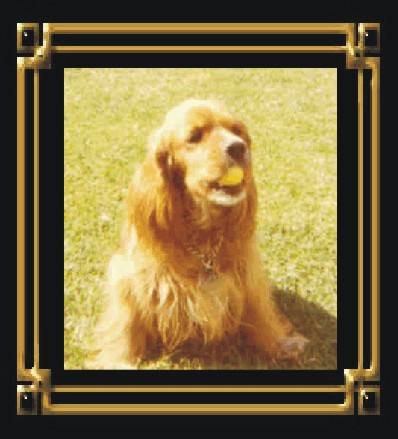 June 19, 1969 - Summer of 1979

"We miss you, Boots, on our Easter Egg Hunts and we hope the birds in Heaven aren't driving you as crazy as they did here on Earth. Love, Fred, Nancy, Lisa, Monique, and Grandpa and Grandma Ray."

This was a Tribute to our Red Cocker Spaniel, Boots, written by her previous owners, Lisa and Monique Ray, ages 12 years old and 8 years old. At the time of Boots death she was owned by the Ilg family.





"IN MEMORY OF CAL-ORE'S SATAN'S MISTRESS CD"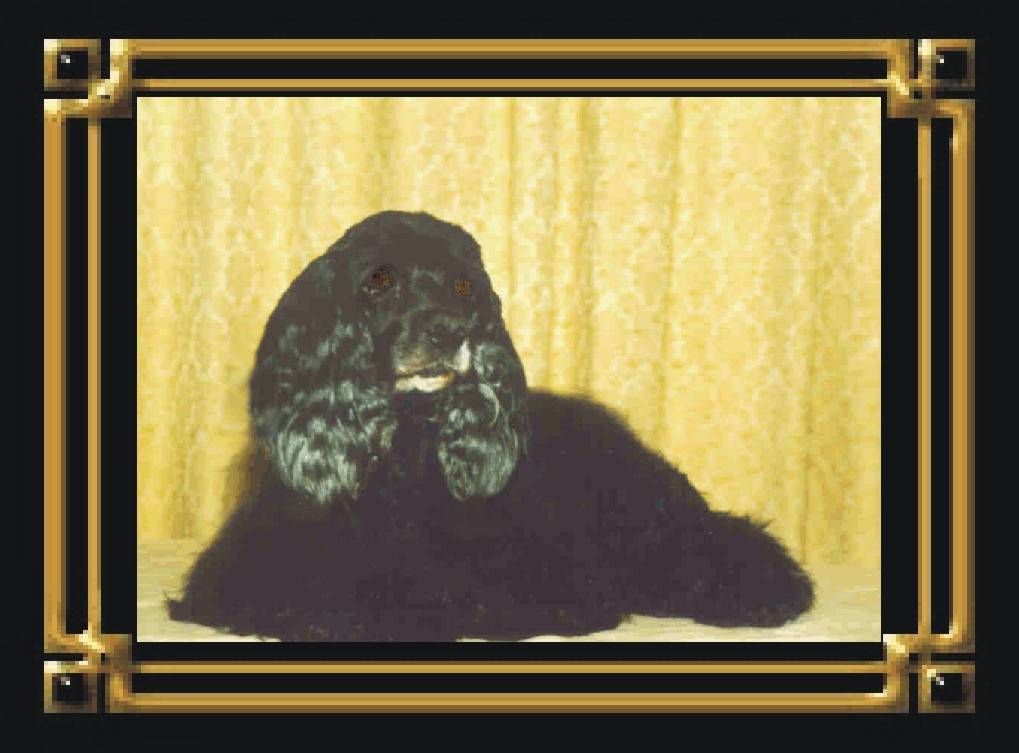 January 13, 1974 - November 18, 1986

"She walks in Beauty, like the night of Cloudless Climes and starry skies; And all that's best of dark and bright meet in her aspect and her eyes"
Lord Byron, 1815

Missy was the Dam of:
CH CAL-ORE'S COAL DUST, (Black)
CH CAL-ORE'S CHOCOLATE TREAT, (Chocolate)
Cal-Ore's Chocolate Alexander, (Chocolate)
Cal-Ore's Chocolate Prailine, (Chocolate)
Cal-Ore's Chocolate Crunch, (Chocolate)
Cal-Ore's The Devil's Advocate, (B/T) - (Major pointed)
Cal-Ore's Elusive Dream, (B/T)
Cal-Ore's Chocolate Tickles, (Chocolate) Granddam of CH CIRKLE C'S TRI MY FUDGE
Cal-Ore's Whispering Wind CD, (Red)

Missy was the Granddam of:
CAN CH CAL-ORE'S SILVER RIC-O-SHAY, (Buff) - Best In Show Winner, (BIS)
CH CAL-ORE'S MYSTIC TIME, (B/T) - BOV, BOS & GROUP Winner
Cal-Ore's Chocolate Miracle, (Chocolate) - Debbie was the First Chocolate to be sent to Denmark in 1977

Missy was the Great Granddam of:
CH CIRKLE C'S TRI MY FUDGE, (Choc/Tri) - Whiz was the First Chocolate Tri Color in the Breeds History to become a Champion
INT CH CAL-ORE'S RED HUGHIE, (Red) - Hughie is half brother to Charlie
AM INT JU.A CH CAL-ORE'S CHARCOAL KID, (Black) - Charlie is our current and newest Champion!



"IN MEMORY OF TAFFY"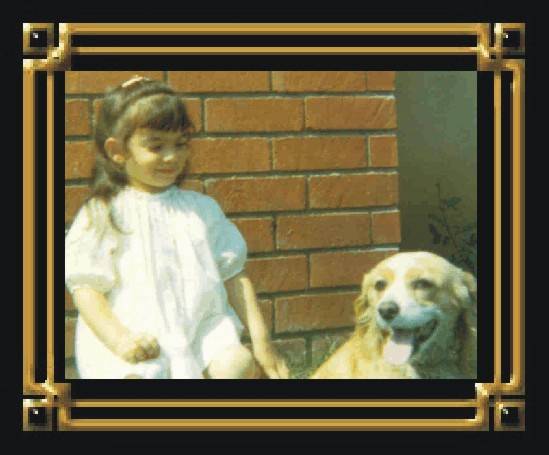 February 1967 - Spring of 1978
Lisa (4 years old) and Taffy


"IN MEMORY OF CAL-ORE'S ELUSIVE DREAM"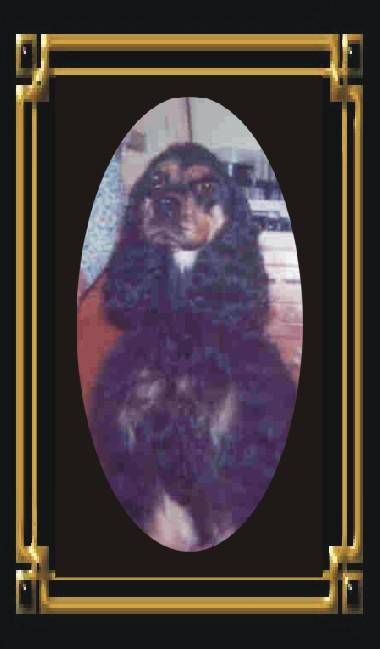 March 21, 1977 - October 1, 1983

The Heart hath it's own Memory... And in it are enshrined The Precious keepsakes... Henry Wadsworth Longfellow

Jenny, our beautiful Black and Tan, Granddaughter of Ch. Rinky Dink's Sir Lancelot, was our "Dream" girl. Jenny was the Dam of our first Champion Black and Tan bitch, Ch. Cal-Ore's Mystic Time, one of Lancelot's 135 Champion offspring.

Jenny, with the constant wagging merry tail, was nick named, "Our Little Morse Code Girl!" When she was in the Vari Kennel crate you could hear her tail thump, thump, thumping what sounded like a Morse Code message! We'd say, "Jenny are you sending us a message?" Her tail would go even faster!

Jenny was a joy to own, no, let me rephrase this, she Owned our Hearts.

Jenny had a silly little habit of chasing and pouncing on Thistle Fuzzy's! She would run from one end of the pea gravel exercise yard to the other after the fuzzy's, even skidding in the gravel, as she turned, when the wind would blow the fuzzy the other direction!

Jenny had another silly, but annoying habit. She would jump up onto the side of our barn, the exercise yard was connected to the back of the metal sided barn, trying to get Flies, Lady Bugs, Tansy Moths, Butterfly's, and YES, EVEN BEE'S!!! We could hear her from the house, about 200 or more feet away, KA-Booming into it!!! My girls would say, "Oop's, Mom, there goes Jenny chasing Bugs again!"

Our hearts were broken when on October 1, 1983, our beautiful girl's heart and tail was silenced forever. Jenny's death was and still is very hard for my girls and I to talk about to this day, 17 years later, I still feel that her death was my fault. Of course our Veterinarian and my own personal Doctor has said that I should not feel guilty for her death, as I too was on the verge of deaths door from the horrible Silent Killer--CARBON MONOXIDE.

To read more go to:



BEWARE OF THE SILENT KILLER.

Pet Loss Grief Support, Rainbow Bridge, Monday Candle Ceremony




<!This is the START of the script! Just Copy and past! Good luck!!!!>

Copyright © 1999-2004 CAL-ORE COCKERS
Nancy L. Ray and Lisa L. Ray
All Rights Reserved
We have spent thousands of hours searching the Web for information & Links. Researching Old Books, Magazines and talking to Long time Breeder/Exhibitors in our search on the Cocker Spaniel's History. We hope you find them helpful, but PLEASE note these pages are COPYRIGHTED.
DO NOT COPY, Transfer, or Download the content or Photo's of these pages onto another Web page or Web site without our written permission.