!Skapad av Annette Hägglund med Einstein Html 2000> <!Tid: 15.26 Datum: 2001-10-05>
Obedience, CGC, Agility and Flyball
"If a dog will not come to you after having looked you in the face, you should go home and examine your conscience."
Woodrow Wilson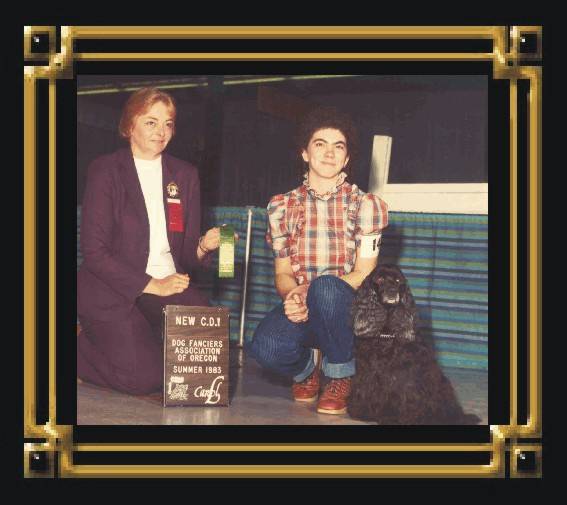 This is a picture of our Missy, Cal-Ore's Satan's Mistress CD, achieving her companion dog obedience degree at almost 10 years old, Summer of 1983.Her parents were AM., MEX., FR., INT. CH. WINDRIDGE CHOCOLATE BARON CD x Lady Beverly Boots. She was the foundation bitch of our line. Missy is shown here with her Owner Trainer, Lisa L. Ray, not quite 16 years old.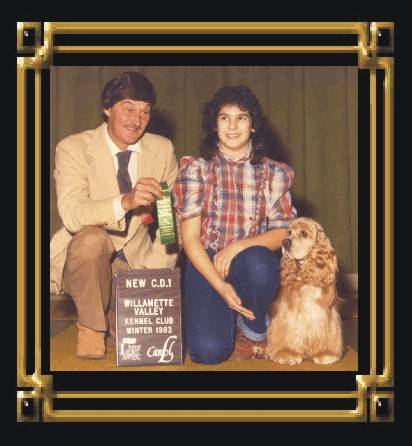 Cal-Ore's Whispering Wind CD, his parents were AM. CAN. CH. WESTLAND'S LORD SNOWDEN x Cal-Ore's Satan's Mistress CD. He finished his Companion Dog title on March 13, 1983. Cinnamon won his first two Legs with a score of 185 and 190. Cinnamon won his last leg with 188 points. Cinnamon, 6 years old, shown here with his Owner Trainer, Monique R. Ray, 11 1/2 years old.
Judge was Mr. Wayne Boyd.



AKC Obedience
ASC Obedience
AKC Tracking
ASC Tracking
All Stars Home Page.
Canine Good Citizen
AKC - Agility
ASC - Agility
The Dog Obedience and Training Page
Obedience Page - Musical Freestyle
Flyball





Copyright © 1999-2006 CAL-ORE COCKERS
Nancy L. Ray and Lisa L. Ray
All Rights Reserved
We have spent thousands of hours searching the Web for information & Links. Researching Old Books, Magazines and talking to Long time Breeder/Exhibitors in our search on the Cocker Spaniel's History. We hope you find them helpful, but PLEASE note these pages are COPYRIGHTED.
DO NOT COPY, Transfer, or Download the content or Photo's of these pages onto another Web page or Web site without our written permission.

<!This is the START of the script! Just Copy and past! Good luck!!!!>